When I think of Memphis many images pop into my mind: my childhood, the River, BBQ, and the Kings. And until recently, I had no idea that young people were standing up and demanding a place at the table of civic responsibility in the town where I grew up.

Let me take you back a few years. One of my favorite trips after I got out of class at Christian Brothers High School on Walnut Grove Road were those special days when my mom would take me down Mendenhall Avenue to Leonard's Pit Barbecue. Y'all may not know what Leonard's was, but to me it was heaven. Pulled pork. Sweet sauce. Cole slaw. And baked beans. Quite simply the best damn BBQ sandwich you could ever sink your teeth into. When I think about Leonard's and the visions of pig dance in my head, my mind wanders to thoughts of the Neely brothers and the pulled pork they cook up on South Jefferson, and their uncle's place down on South Third, Interstate Bar-B-Q & Restaurant. And then there're the Kings. Elvis — I still don't know what to make of him. But he keeps popping into my head anyway, which probably has something to do with the black velvet image I passed out under sometime during my freshman year of college, while visiting a couple of friends in Mobile. Now, the other King has more meaning for me. I'm referring to Dr. Martin Luther King, Jr. When I think of him, I wonder what it would have been like to be a young person who lived through the tragic day of April 4, 1968. I think of how I would see my responsibility to the community where I live. I hope I would have had the resolve to continue the good fights, to seek the best for my town.
Well, nowadays, when those images arise, I think of something else. I think of Mpact Memphis, and I'm filled with pride, hope, and anticipation for the future. What is Mpact Memphis? It is a group of young people who believe that "[c]ontained among our community members is the energy and vision to motivate Memphis to realize its potential, to embrace its various cultures, and to expand its appeal." This vision for Memphis has attracted more than 400 people to get out and exercise their civic muscles. They are an all-volunteer force that is starting projects, forming partnerships, and seeking out community board opportunities so that young people in Memphis will shape its future.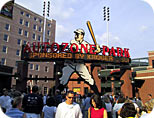 Memphis does seem to have it going on. There is a ten-year plan known as Memphis 2005 that is being run by the Memphis Area Chamber of Commerce. The riverfront has Tom Lee Park, which plays host to Memphis in May, its music festival and the annual BBQ contest that draws cooking teams from all over the country. Downtown is in the midst of a building boom that includes a nice mix of commercial, residential, and retail. The National Civil Rights Museum has garnered international recognition for its exhibits and the annual Freedom Award, which brought Nelson Mandela to town. AutoZone Park was built in the past two years, cattycorner from the Peabody Hotel, a venerable southern institution where the ducks still walk the walk. AutoZone Park is home of the St. Louis Cardinals AAA farm team, the Memphis Redbirds. In the past year, more than one hundred housing units have come on line at No. 10 Main, a 1905 bank building that was turned into upscale apartments after two decades of disuse. The apartments range in

size from 1,246 to 1,343 square feet, and monthly rents range from $950 to $1,400 a month. Apartments, known as the Echelon at the Ballpark, have been built adjacent to AutoZone Park. New multifamily units have gone up on Mud Island and at the South Bluffs. Memphis' downtown apartment stock appears headed for 5,000 units. That many people downtown need places to shop, eat, and drink. When you add the 300,000 square foot Peabody Place development into the highly successful Beale St., you see why downtown Memphis has an energy to it when you walk around. People are on the streets. They are shopping in Peabody Place at places like Ann Taylor Loft and the Gap. They're eating dinner at Puccini & Pasta or grabbing an oatmeal stout at the Dan McGuinness Pub. They're taking in a movie at the Muvico Peabody Place 22 screen theatre. Or you'll see folks take the trolley down South Main every month for an art tour, which highlights the galleries that seem to be popping up all the time, with two in the last month. There is also the Pinch district, just north of downtown between the Pyramid (where Mike Tyson will fight Lennox Lewis on June 8 this summer for the World Heavyweight Championship) and Harbour Town, the residential community that houses single family homes and multifamily apartment buildings.
What about the rest of the city? What's happening to the various midtown neighborhoods? Where are the artists going to go when they're priced out of downtown? How is transportation planning coming along? Light rail? Highway 40 through Overton Park? Sprawl? Consolidation? A new, publicly financed venue for the Memphis Grizzlies? And there's the white elephant in the room that few seem to really want to discuss: race. These are some of the issues that confront Memphis. These are issues that the members of Mpact Memphis seem to want to embrace. When I think of Memphis now, that's the reason for the newfound pride I feel for my birthplace and the place I still call home.
I'll close with this. It's a piece of advice for the emerging leaders of a new Memphis, in the context of Memphis 2005. When the leaders of a community announce a plan, it's the active citizens who will hold their feet to the fire. And when you do, follow the money and stick to your principles. To see what I mean, check out what some of the new, young leadership has run up against while championing St. Louis, another city I love and call home: www.centurybuilding.org.